It's Monday 12th, and my exams are finally over! Can I get a hell yeah from my fellow college babies?
*Screams incoherently*
That is all that is new with me. CHRISTMAS IS ON THE WAY AND I AM READY TO GET FAT.
---
Excuse me for the outburst, but I'm just so super excited that my exams are over and done with. Did they go well?
*Screams incoherently*
---
Okay I'm getting off track. Anyway, it's Monday so I'm back with a new movie review! I saw The Edge of Seventeen this Saturday, and I have plentiful (positive) things to say about it. It was so good! Let's get into it:
First of all, the basics: The Edge of Seventeen follows the life of seventeen-year-old Nadine, a socially awkward, mildly isolated teenager who is facing the aftermath of her father's death. With her best friend Krista, Nadine believes that she's getting by just fine, but when her brother and Krista get into a relationship, Nadine realises that there is a world outside the one she has created with Krista, and she must get used to finding her feet on her own.
Super cool little blurb, right? Winky face.
Now, onto my review:
I have to commend the film on how down-to-earth and relatable it is. If you have been in Nadine's shoes, where you have that one best friend and you literally don't need the rest of the world, but then you find yourself struggling to fit in when your best friend starts to integrate without you, it's a really hard place to be.
When you're like Nadine, who can't fit in without being seen as the "weird" one, or you don't do parties and social events but everyone else does, it's also a really place to be.
The acting captures the essence of the awkward teenage phase; Hailee Steinfeld and Woody Harrelson steal the show, and their student-teacher interaction is hilarious and fun to watch. Nadine as a character is just so lovable, and when she starts breaking down from the isolation, you really feel for her character.
The movie does a great job of portraying the mental pressures of "needing to be like the others", and the complex relationship between a sibling and a best friend. It also does a hilarious job of introducing a new crush, and the true awkwardness of that first high school relationship.
So, if you're interested in a coming-of-age comedy-drama about the life of a seventeen-year-old girl, and want to know what it's like to be on the outskirts of a generation you can't relate to, then this movie is for you. I really loved it, particularly because of how I related to it, being a quiet book-reader who really feels like the world passes me by sometimes. So, I recommend it! Spoiler section coming up below, so stay if you've seen the movie! Otherwise, thanks for reading!
My rating: 7.5/10 stars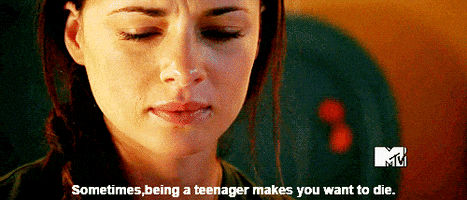 ---
You're still here? Great! Let's get into the specifics of what I liked:
First of all, Nadine baby girl, I get you. I know the feeling of preferring to have a few close friends over a huge, outgoing social group, so this movie hit me hard. Nadine is completely all over the place. But aren't we all, at some stage? Well, if you were a popular teenager who got by really easily, I envy you. I really do.
I loved how Nadine interacted with her teacher, and Erwin. The relationships were so natural and well-portrayed, and the comedy was really well done. I love ya, Erwin.
Can we talk about the relationship between Krista and Darian? I don't know how I'd feel if my best friend dated my sibling, but I really don't think I'd mind. In fact, it wouldn't really bother me. My sister and I had a huge debate about it; she thinks it's a shitty thing to do. What do you think?
And oh my good god, the scene where she texted Nick? I was dying from second hand embarrassment. I knew what would happen next, so I really felt for Nadine when Nick tried to get it on with her. And her breakdown had me severely teary-eyed. Because the emotion was so raw and realistic.
Finally, I loved the very last scene, where Nadine starts to realise that the world isn't as scary as she thought. When she starts to integrate, and realises that she actually likes Erwin because he treats her like a friend, it's so wonderful to see. There's a happy ending like that for everyone, you just have to let it in. That's what the movie tries to say; you have to find yourself first.
---
And c'est tout! Thank you so much for reading, and let me know your thoughts on the movie below. Bye for now!