IT'S TIME. I've waited 365 long days, and we have finally reached my favourite time of year.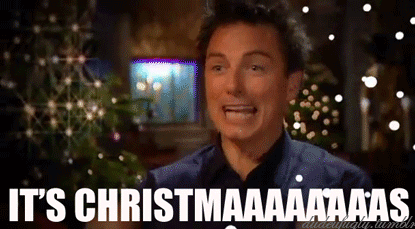 I'm super excited, and because I'm going to be so busy all day, I've decided to put up a quick post with a Christmas feel. I didn't know what I wanted to write about; so, as I wracked my brains and drank cup after cup of hot chocolate, I finally got it!
I'm going to give a very lame, original version of "The Twelve Days of Christmas" song, book-lover style. This is majorly embarrassing, but I had loads of fun picking my favourite things about being a book nerd and threw them into the song. So, here is my version of The Twelve Bookish Days of Christmas (and a 5, 6, 7, 8):
ON THE TWELFTH DAY OF CHRISTMAS, MY TRUE LOVE GAVE TO ME:
12 Rainy Lie-Ins,
11 Bad-Boy Hotties,
10 Ships A-Sailing,
9 Bad-Ass Females,
8 Filled-Up Bookshelves,
7 Chosen One Tropes,
6 Gorgeous Covers,
5 CUPS OF TEA;
4 Library Books
3 Book Hauls
2 Mourning Days
AND A RON, HARRY AND HERMIONE!!!!!
.
.
.
Yeah, that was lame. But who cares? It's Christmas, and I shall get into the spirit, damn it. If you're reading this and want to make your own version, go ahead and post it below! Or you can post it on your blog; I'd love to see what kind of book things make you happy to be a reader. So fill 'em into the song (it's actually ridiculously hard lol), and have a very happy Christmas. May you be showered in gifts and enough cake to incapacitate you for hours!