Hello, bloggers of the interwebs. If you're like me, a book lover who just cannot get enough, you'll know that buying books is not only fun, but necessary. I love getting new books, and I mostly find myself at the good old library, chatting with the librarians, browsing the shelves, you name it. I think I suffer from the ultimate book lover problem: stinginess versus book necessity. 
You know when you walk past a bookshop and the books just scream out at you? They're calling out "come look at us", and the person you're with is desperately grabbing at your arm as you try to answer those sweet, sweet books. But then you realise you vowed not to spend any more money on books that month because a) you bought like 20 in a day and you're broke and b) you're down to the clothes on your back and the single cucumber in your fridge because all the money went to books. And then you carry on down the street with the person you're with, who breathes a huge sigh of relief that their day was not spent following you and your nose around a bookstore. So how did I get over this dilemma?
A friend recommended Book Depository to me a few years ago, but I never really got around to using it until about last year. And it is simply amazing. 
If you haven't heard about it, Book Depository is an online website dedicated to selling books for amazing prices. The website also has free shipping around the world. You don't have to be Sherlock Holmes to discover what I did when I started using this site.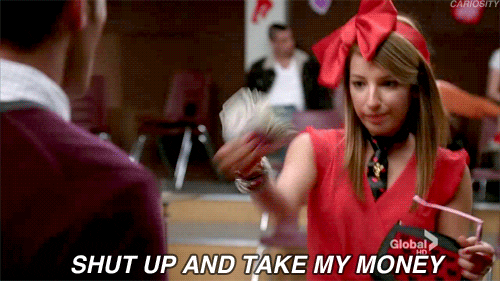 There are great bargains, a fantastic newsletter suited to your interests, and quick delivery. What else could I ask for? Also, it's like a mini Christmas every time my parcel of books arrives, a present from me to me. The way Book Depository works is that the books are mainly shipped at different times; last summer, I ordered seven books and they all came one after the other. This was me:
So, I'd say that unless I find a book I'm looking for in a charity shop for a nice price, Book Depository is the best option for buying books at affordable prices, all new and available for pre-orders. It's safe to say that I'll be using it for years to come.
If you also use Book Depository as your main source for book-buying, let me know below!
Here's my affiliate link for all you book babies who want to go browsing: