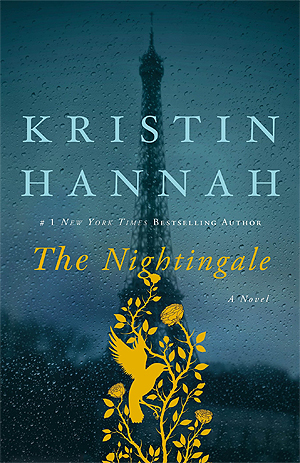 Despite their differences, sisters Vianne and Isabelle have always been close. Younger, bolder Isabelle lives in Paris while Vianne is content with life in the French countryside with her husband Antoine and their daughter. But when the Second World War strikes, Antoine is sent off to fight and Vianne finds herself isolated so Isabelle is sent by their father to help her.
As the war progresses, the sisters' relationship and strength are tested. With life changing in unbelievably horrific ways, Vianne and Isabelle will find themselves facing frightening situations and responding in ways they never thought possible as bravery and resistance take different forms in each of their actions. (Goodreads)
My Goodreads rating: 4 stars
Here is a book review, as promised! I finished this book a few weeks ago and have finally gotten around to reviewing it. There's much to discuss, so let's get into it:
I love a good historical fiction as much as the next girl. Specifically, I love WWII stories. Whether they are 100% accurate portrayals or just used as a backdrop for something else (e.g. a love story), I can't get enough. Not because I enjoy something as serious as WWII being glamourised, but because it is an event that should never be forgotten, and I welcome any adaptations and portrayals that come my way. It's the same for any historical event: I don't think they should be allowed to die, because we need to remember them.
This book focuses on the occupation of France during the Second World War. It centres around two sisters who struggle with their relationship with each other and their father, before the war throws them into situations that really tests their bond. I have to admit that I imagined something a little different, based on my reading of the blurb. Am I the only one? As far as war stories go, this book (for at least the first half) bordered on slightly mediocre for me. That sounds horribly blunt, but I mean this in an honest way. The book took the essences of other books that have written about the war, and essences of what the author knows about the war, and tried to tell an original story about it. For the most part, it succeeded. But I did have a few problems with it.
First of all, the writing was a little…juvenile? The book was well written, but in a way that I would expect a typical YA author to write. Not that a YA writer is in any way lacking, but it simply read like it was for a younger audience than I would have thought. The writing did do the job however, and it allowed the story to flow and transition between the past and the present nicely. And there were some utterly beautiful passages in the book, too.
If I have learned anything in this long life of mine, it is this: in love we find out who we want to be; in war we find out who we are.
There were also a few cliched elements of the novel that didn't sit well with me, and these largely centred around character and romance tropes. But by the end of the book, these were largely forgotten.
Finally, I couldn't help but feel that the author had a checklist of war "happenings" set aside, to which she consulted to ensure that the book contained every necessary element. A good few cliches arose from this too. But that's enough about the things that didn't sit well with me. I did give the book four stars, after all. Here's why:
The relationship between Vianne and Isabelle was beautifully explored. I could feel the anguish and struggle between them so prominently; having a sister myself, I could relate to some of those moments where we butt heads and struggle to see eye to eye. But you could feel the love between them, even though it took the war for them to realise that. And their father's self conflict and PTSD is heartbreaking to read about, especially as he loves them but cannot get over his demons enough to show them. It took the war for them to realise that too.
Vianne's fear was very real and her behaviour during the occupation was very human. That sounds strange, but I'll explain. Compared to fiery and vivacious Isabelle, who threw herself head first into fighting the Germans, Vianne simple wanted to protect her daughter and the life she knew before her husband was enlisted and her small town was invaded. It really struck me, because as much as we'd all love to be Isabelle, there is a Vianne in most of us who struggles to keep her head down until the bad things go away. But she is courageous in her own way, and she shows this to us through the little things she does. And I find that beautiful.
Isabelle goes through one hell of a time fighting for her freedom. She is an amazing character, who matures from a over-eager teenager into a humble and brave young woman. I feel like the female heroes of the war aren't talked about as much as they should be, which is why fictional characters like Isabelle and even real people like Antonina Żabiński (portrayed in The Zookeeper's Wife) are so important. There were women behind the scenes who put their lives on the line to fight for what they stood for. I hope we never forget them, either.
The ending was what changed my entire rating (initially 2-3 stars). I literally did not see it coming, and it truly broke my heart. It leaves you bittersweet, but completely satisfied that you had read the book. Although I wish I could have finished the book rushing to give it five stars like I hoped to, I can't lie and say I didn't enjoy it. I did. And I recommend it to my fellow historical fiction lovers. I'm not even ashamed to say that I cried multiple times throughout this book, but at this stage I'm not even surprised. I cry at everything.
I always thought it was what I wanted: to be loved and admired. Now I think perhaps I'd like to be known.
---
And that is all for now, beautiful readers! I'll have a few more reviews up before Wednesday, as well as a Movie Monday post and a few book tags. Thank you so much for reading 🙂