It's Tuesday, I promised some tags, and here's one! I was tagged by the fabulous Olga @ Olga's Oddish Obsession for this super cool tag, and I'm super thrilled! Check out her blog, she's hilarious and awesome 🙂
Without further ado, let's get into it*:
*Quick note: I fully intended to have this posted on Tuesday, but my laptop had a mental breakdown, god bless its soul. After my initial frustration, I forgave it and started again from scratch. Same deal with my Movie Monday- to this day I still don't know where that post went. Oh well. 
---
Question 1: If you could invite one author and one of their fictional characters to lunch, who would you invite and what would you serve them?
This is seriously tough! If I had to go for just ONE author, it would be Laini Taylor, along with her character Karou from the Daughter of Smoke and Bone trilogy. Laini is such an inspiration as an author, with an amazing imagination and kickass writing skills. Karou is one of my favourite female protagonists ever, because she's relatable, badass and witty. What would I serve them? Oh jeez. Well, my specialty dish is lasagne, so I would make my best lasagne and pray they enjoy it!
Question 2: What book do you wish the author would write a prequel for?
Here's a shocking little secret about me: I don't really like prequels. Gasp. Shock. Horror. I don't know, I just never liked it when a story I loved ended and I got a load of backstory instead, because I love the main action. That being said, there are times I wish I got a little info from "way back when" in a novel; in that case, I'll go with Skullduggery Pleasant by Derek Landy. I would really love to know more of the infamous Skullduggery's past, because he's so mysterious and cool that I can't help but wonder what secrets he hides.
Question 3: Which two characters (not from the same book) would make a good couple?
This is actually ridiculously hard! I never really imagine characters interacting with other characters, so I had to think super hard for this one. I'll go for the first one that comes to mind: Nine from the I Am Number Four series and Rose Hathaway from the Vampire Academy series. I just think that they are both super self-confident, sexy and "screw the rules" type people. Plus, their banter would be hilarious (if they don't kill each other first).
Question 4: If you ran into your favorite author on the subway and only could say one sentence to them, who is it and what would it be?
Again, this is really tough because I have more than one favourite author. So I'll just go with one of them: I would love to run into J.K Rowling, and I would say this:
"Thank you for helping my nine-year-old self believe in magic; you made my childhood magical."
And then I would burst into tears and make an utter fool of myself. Because that's how I roll.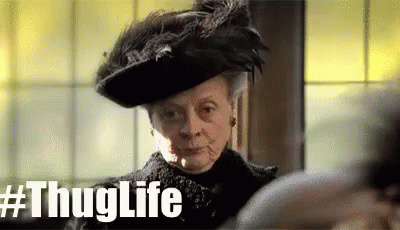 Question 5: What book made you a reader and why?
I can't really remember any one particular book that got me into reading; what really got me into reading was my mom encouraging me to read and getting me books from a young age. But I will say that Roald Dahl's books in particular had a huge influence on me, and so did the Harry Potter series. They will definitely be the first books I introduce my future children to.
Question 6: Incendio!
Your bookshelf just caught fire. Show the book you'd save.
I swear, this tag is getting harder and harder by the second. I don't even know! I have so many beloved books on my shelf; I'm going to cheat and pick two: the first would be my favourite book of all time: Gone With the Wind, by Margaret Mitchell. The second would be my favourite book of 2016, and one I purchased recently: A Court of Mist and Fury by Sarah J. Maas. The Rhysand feels are too strong to let that book burn.
Question 7: Which dystopian world would you want to live in if you had to choose one? Why?
Er….Well, most (if not all) the dystopian worlds in books that I have personally read have been utterly terrible. As in, "corrupt government, extreme danger" terrible. Let me just peruse my Goodreads shelf for two seconds. *Elevator music*
Ok. I've decided to go for The Lunar Chronicles world; I know that things are pretty dire, but the whole cyborg and Luna aspects of the series are really cool. Plus, I just want an excuse to be part of Cinder's group, because they are all so freaking awesome.
Question 8: What is your most epic read of all time?
I think this tag really wants to test my endurance. I have literally read hundreds of epic reads. For this, I'm going to pick ONE epic read (not necessarily of all time) because it's not fair to all the amazing books I've read. So, my criteria is: a book that made me laugh, cry, gasp out loud, rant to my sister and physically feel unable to carry on (but also obsessively keep reading.) For this, I'm going with Clockwork Princess (The Infernal Devices #3) by Cassandra Clare. I couldn't cope. That's all I'm going to say.
---
And c'est tout! Once again, a huge thanks to Olga's Oddish Obsession for the tag, I really enjoyed it!
Onto the nominations: I nominate anyone reading this right now who wants to take part. Cheating, I know. But I have soooooo much to get through and I'm afraid the tagging will start getting repetitive. Regardless, enjoy and thanks for reading!