It's time! I have finally seen the movie I have been anticipating more than any other this last year, and I have loads to say about it. There may be some spoilers below, but I'll try my best to keep it spoiler-free. Proceed with caution!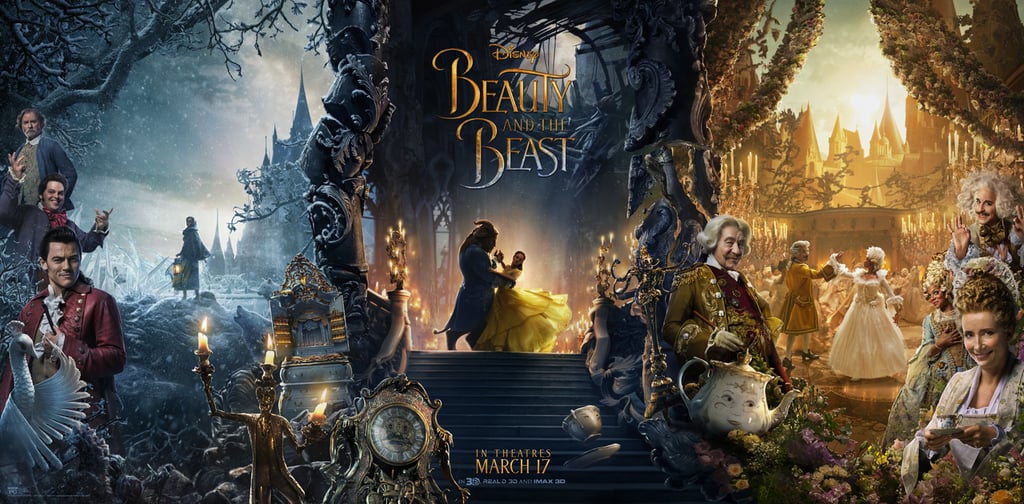 Release Date: February 23rd 2017

Run time: 9h 19m

Director: Bill Condon

Starring: Emma Watson, Dan Stevens, Kevin Kline, Luke Evans, Josh Gad, Ewan McGregor and more

Rotten Tomatoes rating: 71%

IMDb rating: 7.8/10

Trailer: Beauty and the Beast
What can I say? I think my story starts in much the same way as the majority of people. I'm familiar with the original story of Beauty and the Beast. I watched the stunning Disney musical at a young age. I had an obsession with the Disney Princesses, and Belle was one of them. And when I heard about the remake? I felt nothing but the utmost joy.
Based on the trailers alone, I knew what to expect. I knew that much of the original Disney movie would find its way into this film. I also heard of some new additions that would be added to this new feature-length. And I was truly on board with every single thing. The cast, the trailers, the initial photos, all of it only added to my excitement. Watching the movie over the weekend, I wasn't sure how I'd react. But I was not disappointed in the slightest.
The first thing I have to say is that the movie is beautiful. Absolutely visually stunning. The effects team deserve Oscar after Oscar, and I will never be able to stress this enough. It's no easy task to adapt a movie like Beauty and the Beast into a live-action, considering the animated objects we know and love. But I literally could not fault a thing. I think my biggest concern was that the Beast would look very odd in the finished product, but my doubts were appeased immediately. Everything about the special effects was on point. The setting of the town, the beautiful castle and every single character was presented in the highest quality, and I was pleased with that.
The cast seriously needs to be mentioned. They all did an outstanding job. When I found out about who would play each character initially, I was thrilled. Emma Watson is my perfect Belle, and she shined in that role. The voice-acting was outstanding, and Ewan McGregor stole the show as Lumiere. Props to him. The singing was beautiful, from each and every actor. Dan Stevens did a fantastic job as the Beast. Honestly, I can't fault anyone. One tiny grievance would be that Emma could have been a small bit more like the animated Belle, but that could have come across as very strange so I'm glad she adapted Belle the way she did. 🙂
I loved what they did with the characters. Watson was a more hands-on, strong version of Belle. The Beast was a more broody and less shy version than his animated counterpart. Gaston was seriously way scarier than in the animated version- not in a "comically" scary way, but in a "wow, this dude is seriously antagonistic" way. I personally wished he was a little more "comically" bad, but this version worked well too. Apart from Lumiere, my favourite character had to be LeFou. Again, his character was less comical than in the animated classic, but this also worked well because his character was rebranded. When I heard that Josh Gad would represent the first openly gay Disney character,  I nearly cried with happiness. Naturally, it wasn't thrown in our faces in any truly explicit sense that LeFou is gay, but elements were there. I have never been happier than I am now, to have free representation in a Disney film. This is a major step for Disney, and for equality in general.
There were some truly hilarious moments in the film, as well as some heartbreaking moments. It's safe to say that I cried for the majority of the film. My sister cried. The middle-aged man seated to my right cried the entire time too. It was that poignant. I think the majority of emotions came from the nostalgia boost, but a good few scenes caused a few tears as well.
If you're in any way apprehensive about seeing this movie, purely because you do not like the idea of a remake, I need to tell you right now that you MUST see this film. It did not disappoint in any sense. Nostalgia is a brilliant feeling, but better than that this film adds new and beautiful things to the story we all know and love. There are some new additions to the plot, as well as some amazing new songs. Speaking of the songs:
The soundtrack left me speechless. The new additions were truly spectacular. And can I just talk about my highlight of the whole film? The Be Our Guest scene. I smiled and cried through that entire sequence. Seeing the movie for THAT alone would be worth it. The visuals, the performance, the singing…it's all stunning. I cannot stress that enough. All in all, this movie lived up to my apprehensive expectations. I want to watch it again. And when it comes out of cinemas, it'll always have a place in my heart right next to the one that started it all.
My rating: 8.5-9/10
---
If this hasn't sold you, I don't know what will! If you're a huge Disney fan and haven't seen this yet, what are you waiting for??! Go! If you have seen it, let me know what you thought! Thanks for reading 🙂