Hi again! I'm working through all the tags and nominations I've received from my beautiful fellow bloggers, and although I'm severely behind, I will one day get through all of them! So thank you to everyone who tags/nominates me, I always love it when I see my name pop up and I'm always truly grateful 🙂
I was tagged for the Sunshine Blogger Award AGES ago by the fabulous blogger Maya @Maya Hearts Books! Thank you so much Maya, everyone please go check out her amazing blog because she posts awesome reviews, tags and other cool stuff! Now, on to the award:
---
The Rules: 
Thank the person who nominated you in a blog post and link back to their blog.
Answer the 11 questions sent by the person who nominated you.
Nominate 11 new blogs to receive the award and write then 11 new questions.
List the rules and display the Sunshine Blogger Award logo in your post and/or on your blog.
---
Maya's Questions: 
1. What's a bookish quote that you really love? From a book, about books, I don't care, just tell us.
I really love this quote I read years ago, which I believe was said by Charles Dickens:
"A room without books is like a body without a soul."
I think this quote resonates with me because it's super poetic, which I love, and also so very true for a huge book-lover like me 🙂
2. If you can, post a picture of your prettiest bookmark. If you can't, describe it for us.
This is really hard, because although I love collecting bookmarks, they aren't really anything fancy, just free ones from the library and so on. That said, I think my favourite book that I purchased recently is a cut-out of No Face from Spirited Away, and I love it because it's super cute. I haven't got a picture of the actual bookmark, but here's a pic of No Face for you:
…..
It seems really creepy, but I love No Face and it's cute, I swear!
3. What are some diverse books that you've read this year?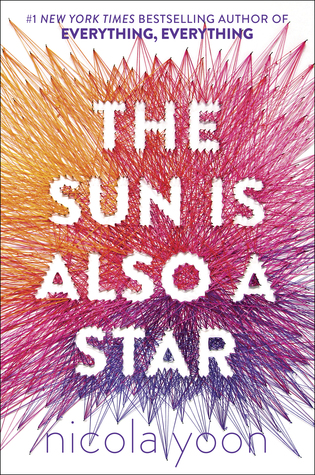 I recently finished reading The Sun Is Also a Star by Nicola Yoon, which is a love story between a Korean-American boy and a to-be-deported Jamaican girl. The book was a great breath of fresh air, showing that love can develop between people of different races, and it was also a great exploration of cultures: both in-depth and realistic. I loved it! Here's a link to my review: The Sun Is Also a Star
4. How many books have you read this year? Do you keep track on Goodreads? If so, leave us a link so we can go friend you!
I've read 27 books so far, which isn't as much as I had hoped, but I was crazy busy with college so I'm slowly getting back into it now! And yes, I keep track of everything I read on Goodreads because it's fun to know where I am with my reading and challenge myself. Here's a link, I always love making new friends!
5. Favorite classic?
Jane Eyre by Charlotte Bronte is my all-time favourite classic. I read it ages ago and it has always stayed with me; I think it's because of the fascination I had with Jane's character, as well as her epic romance with Mr. Rochester. I seriously need to read it again!
6. How much time do you spend at bookstores each time you go?
ABSOLUTELY AGES! I get stuck in them whenever I go, and everyone I go with knows that if I enter one, I won't be coming out! I always get yelled at for looking at books for so long, but honestly if I'm by myself and I slip inside a bookstore for a "quick browse", I literally can't leave without spending at least 30 minutes in there!
7. Are you a fast or a slow reader?
Fast, although it depends on the length of a book and my personal interest. If it's short, I read it especially fast, and naturally bigger books take me longer. But if it's a huge book that I'm obsessed with, I can get it done really quickly, sometimes faster than smaller books that I'm less interested in.
8. Ebook, paperback or hardback? Explain.
Paperback all the way. I find it hard to get into Ebooks, but I will be getting a Kindle soon so hopefully I'll adjust to them better. Hardbacks are the most expensive and quite cumbersome to have around, in my opinion. Especially with the book covers that come off- they get damaged easily and are all over the place when I'm trying to read. Here's a real-life example of me trying to handle a hardback:
9. What is the longest series you own in physical form?
Harry Potter. I got the entire boxed collection for Christmas years and years ago, and to date it's the longest I own. Although technically, I also own all the Mortal Instruments books, so if you count The Infernal Devices with those then that series would be the longest. I don't buy whole series for two reasons: 1) I mostly use the library to get a hold of books, and 2) if I do like a series, I don't mind buying just the books I like most/the latest in the series. It doesn't bother me if I read the first 3/5 books in a series from the library and buy the last two, so a lot of my owned books are cut-up series like that 😀
10. Do you have a bookstagram? What are some of your favorite bookstagram accounts?
Nope, I don't have one. I've considered it, but concluded that it isn't my thing. I'm quite lazy, have a general disinterest in social media and am not particularly excited about taking pictures of books, so I think it would be like a chore in my mind, rather than a fun hobby. But the bookstagram accounts I have seen are simply stunning! I don't follow many (from my personal instragram), but I do like Emily May (The Book Geek). Here is a real-life example of what I would look like trying to bookstagram:
11. And finally, which was the last book you rated five stars?
The Assassin's Blade! I loved reading the prequel novellas to the Throne of Glass series, and the entire collection lowkey killed me. I really like Celaena's assassin side, and getting her backstory was both exciting and heartbreaking. I have a full review for The Assassin's Blade here.
---
And those were Maya's 11 questions! I really enjoyed answering them, so once again thank you Maya 🙂
My Questions:
 Do you cry easily when you read or watch movies? If so, which book and/or movie made you bawl the hardest?
What do you love most about blogging?
Is there a song you love that describes a book perfectly?
Would you ever start a BookTube channel? If you have one, give us a link to check it out!
If you could go on a road trip with 5 of your favourite characters, who would they be?
What is the last book you read in one sitting?
What is your dream vacation spot?
What is your favourite childhood movie?
If you could have a superpower, what would it be?
Quick! First book that comes to mind with the word "adventure".
And finally, name an actor you would cast for a character you love.
---
My Nominees: 
I've nominated some long-time followers as well as some newer followers, and I'm truly sorry if you've already completed this award! And if you're not interested, that's perfectly ok too 🙂 Thanks so much for reading.
-Royal Reader