Author: Laini Taylor

Series: Strange the Dreamer (book #1)

Genre: YA Fantasy

Format: Paperback (544 pages)

Publisher: Hodder & Stoughton (March 28th 2017)

My Goodreads rating: 4/5 stars

Book Depository: Strange the Dreamer 
Goodreads Synopsis:
The dream chooses the dreamer, not the other way around – and Lazlo Strange, war orphan and junior librarian, has always feared that his dream chose poorly. Since he was five years old he's been obsessed with the mythic lost city of Weep, but it would take someone bolder than he to cross half the world in search of it. Then a stunning opportunity presents itself, in the person of a hero called the Godslayer and a band of legendary warriors, and he has to seize his chance to lose his dream forever.
What happened in Weep two hundred years ago to cut it off from the rest of the world? What exactly did the Godslayer slay that went by the name of god? And what is the mysterious problem he now seeks help in solving?
The answers await in Weep, but so do more mysteries – including the blue-skinned goddess who appears in Lazlo's dreams. How did he dream her before he knew she existed? And if all the gods are dead, why does she seem so real?
In this sweeping and breathtaking new novel by National Book Award finalist Laini Taylor, author of the New York Times bestselling Daughter of Smoke & Bone trilogy, the shadow of the past is as real as the ghosts who haunt the citadel of murdered gods. Fall into a mythical world of dread and wonder, moths and nightmares, love and carnage.
---
Hey there, Wildcats! It's Tuesday, and the week is going by so slowly I'm convinced that time is moving backwards. How curious….
Anyway, I'm back again with another review for one of my MOST anticipated books of 2017 so far. I mean it, I was so eager to get my hands on this book and when I finally got to read it I was over the moon! Laini Taylor is one of my favourite authors, and I have a lot of love for her Daughter of Smoke and Bone trilogy (which I have yet to finish, but I definitely will!) so naturally, I jumped at the chance to read her new work. Unfortunately, despite the hype which I so easily took part in, I wasn't exactly jumping for joy when I finished the book, despite really liking it. Let's discuss:
First off, I need to comment about the writing. If you're reading a Laini Taylor book, it's just a given that the first thing you'll notice is her outstanding writing. She doesn't just write, she writes. There are very few books I've read in my life where I've gotten distracted by the writing in a good way. There are great authors, and then there are GREAT authors who need a category all to themselves, because they just don't fit in with the others. When the writing becomes an art form in itself, you know you have found a great author. I knew what to expect from Taylor based on Daughter of Smoke and Bone, and I was not disappointed. I was hooked from the very first page, the very first paragraph, because Taylor knows how to paint a world with her words.
On the second Sabbat of Twelfthmoon, in the city of Weep, a girl fell from the sky.

Her skin was blue, her blood was red….

…Her pockets were all full of plums. She was young and lovely and surprised and dead.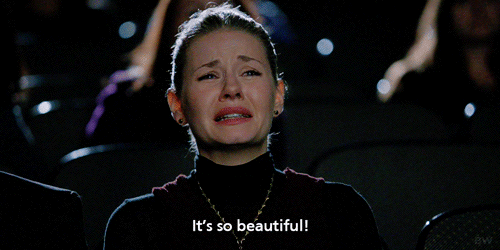 If that doesn't hook you in, I don't know what will! From the start, I was intrigued, confused, eager to read more and dreading what I would find. If the book is about dreams, then Taylor makes sure to take you there with her words. Everything is ethereal, and beautiful, and magical to the point that the writing doesn't just tell a story about dreams and magic, it is a story about dreams and magic in itself. Dream-like and metaphorical enough to break your heart.
However, I will say this: the reason I couldn't give the book 5 stars falls largely on the writing. I know, I know, didn't I just gush about how amazing it was??! But, for a 500+ page novel, there comes a point when I require less beauty in the writing and more emphasis on actual plot. The book took a long time to get going, not because of adequate pacing but because so much detail was given to make the writing sound like a painting composed entirely of words. I appreciate Taylor's attention to her art, but after a while it got a bit too wordy for me. I don't need Lazlo Strange's character described in metaphors. I want to know who he is. The dreamy, mystical atmosphere of the writing became tedious after so many pages.
Despite that, I think my favourite thing about this novel is the originality. No one takes simple ideas and creates such intricate, original and stunningly creative tales like Laini Taylor. In the novel, we follow Lazlo Strange, a young man who has spent his life dreaming about the mysterious town of Weep, studying it, and one day hoping to discover what mysteries erased it from the minds of everyone. As he journeys to the place of his dreams, he learns the dark secrets that have plagued Weep for centuries, and the Gods who were once myths to him are far more real than he could ever imagine. Reading the book, I was actually stunned by the story; I had to stop reading just to reflect on the sheer awe I felt at how intricate and truly fascinating the story was. If this book was turned into a film, it would be such an exciting and visually intoxicating film to watch! Taylor doesn't just build worlds, she sculpts them in amazing detail and in such a way that hasn't been done before. I've never read anything like Strange the Dreamer, and I hope Taylor's originality doesn't ever fade. It takes a true author to stand out in the sea of YA.
Again, it's not all 100% perfection, however. Sometimes it was just a little bit hard to truly envision what Taylor wanted me to see, because again her writing is beautiful and descriptive, but I got lost trying to imagine the setting she established. Perhaps it's just because it was a sensory overload of words and descriptions and colours that had me confused. But it could just be that I'm dense as hell 😀
The characters are amazing, and their backstories were fantastic to read about. We meet Lazlo first, an orphan who gets his reputation as a dreamer by always searching for something more; he longs to discover everything that hasn't yet been discovered, he loves to learn, and he never rules out magic or the impossible. I would love to believe we all have a little bit of Lazlo inside us, and are all dreamers at heart. Sarai and her family share the most unsettling past, and as their paths cross with Lazlo's, that is exactly where the book starts to get really interesting. My only problems are that the book could have been much shorter if the plot moved faster and brought everyone together sooner; there was a lot of backstory but most of it meandered…. I felt that we were kept in the dark about every character on purpose for hundreds of pages in an attempt to keep us guessing, but it just made me irritated. And like I said earlier, Lazlo is the only character who I had problems with, because although he was technically well-developed, Taylor's metaphorical writing painted him as more of a caricature of a dreamer than an actual person. I'm not even sure if he has any flaws, because all we're told is his yearning to reach Weep and make sense of magic, and not any personal whims, character flaws or insights into his deeper thoughts.
The relationships between the characters, and the plot itself (once it gets going after about 200 pages) are the best parts of the book. Once I found out how everyone was linked, from Lazlo to the Godslayer, as well as Sarai and her fellow godspawn, then I really began to enjoy the book. The novel isn't just about Gods, magic and dreaming, however; it's also about love. And although a lot of people couldn't really buy the relationship in this book, I actually kind of loved it. It could have been better developed, of course. But I'm happy with how it turned out. The latter half of the book is super exciting, and once the (horrifying) truth is revealed, the novel becomes a race against time, and a story of "us against them". Whose side do you take? I still don't know.
"I think you're a fairy tale. I think you're magical, and brave, and exquisite. And I hope you'll let me be in your story."
So, there is nothing I loved more than the amazing story and the fantastic characters. I loved the mystery surrounding Weep, how its true name was torn from the minds of the world, and the reasons why. I loved the ending, and all the questions I was left with that have yet to be answered. I loved learning about why Sarai, Feral, Ruby, Sparrow and Minya needed to stay away from Weep, and I loved finding out that Lazlo was wrong about how important he is to solving Weep's dilemma. I will say that I'm a little disappointed with the twist (I'm not going to spoil it here, in case you haven't read the novel!) For those of you who have read the book, you'll know what I'm talking about. It's a move that's done often, and all I'll say is that there's nothing wrong with being ordinary, or an underdog. All in all, the book was a fantastic read, and it you haven't read it yet, I really recommend that you do so quickly! Taylor puts it best herself:
"You're a storyteller. Dream up something wild and improbable," she pleaded. "Something beautiful and full of monsters."

"Beautiful and full of monsters?"

"All the best stories are."
---
That's it for today! I was kind of let down that the hype and the actual book didn't match up for me, but it's okay. I'm excited to read on with the story regardless! If you have any thoughts about the book, let me know! As always, thank you so much for reading 🙂
-Royal Reader